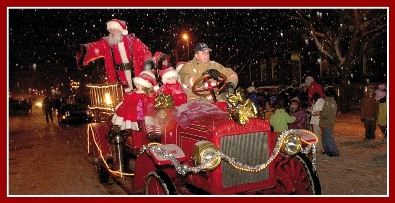 One of Lake Geneva's most cherished community events starts at 5:00 p.m. this Saturday, December 1st when local schools, businesses and organizations light up the streets of downtown Lake Geneva for the 43rd Annual "Electric Children's Christmas Parade".
This year's theme is "A Whoville Christmas – Growing the Heart of our Communities" which encourages everyone to look inside their hearts for the positive things in life and show love and compassion to others.
The parade route starts at Williams and Marshall Streets and runs south on Broad Street to Main Street and west on Main to Cook Street. You'll find that there are lights on all the floats, many of the band instruments, and that even the local fire trucks are illuminated for the event.
The Electric Children's Christmas Parade is a treasured holiday tradition for not only the residents that live in and around the Lake Geneva area, but also for the thousands who visit the area during the year. After the parade, we suggest you stop in at one of the many places downtown for a cup of hot chocolate or a bite to eat, then head back out to check out some of the retailers in town. It's the perfect night to do a little Holiday shopping or just enjoy everything that the beautiful downtown area offers.