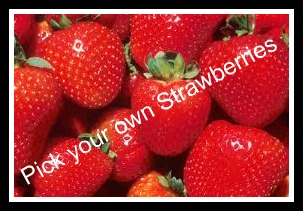 365 Things To Do in Lake Geneva, WI searches to provide you with affordable, family friendly events and this one comes with a great big bonus to all you strawberry lovers out there. The Apple Barn Orchard and Winery in Elkhorn has announced that their strawberry patch is now open for the season.
Depending on picking conditions, the Strawberry Patch is open daily from 7:00 a.m. to 6:00 p.m. with two options for obtaining berries. You can head out to the patch to pick your own berries or call ahead and reserve pre-picked berries. Strawberry season runs for about 3 weeks from mid-June to early-July so don't delay, or you may find yourself out of luck, because when they're gone, they're gone.
The Apple Barn Orchard and Winery recommends that you always call ahead to check on picking conditions before making the trip out. Be sure to take some time to check out their store while you are there. It is literally filled with goodies galore including Wisconsin cheese, honey, salsa, jellies and jams.
Plan to spend as much or as little time as you like. This is just a great and affordable way to spend a nice day with friends and family.