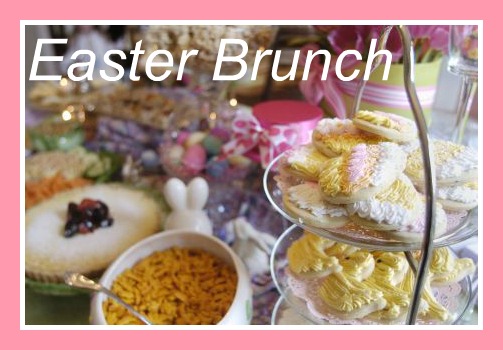 You never have to look very far to find a great Easter Brunch in the Lake Geneva area.  Restaurants all around the area will be serving up wonderful Easter Sunday Brunches for your dining enjoyment.  The following are just a few of the area establishments that are planning holiday celebrations.
Reservations are required for the Grand Geneva's Chop House "Grand Easter Brunch Buffet" being served from 10:00 a.m. to 3:00 p.m.  Brunch will be served in the Chop House and in the Maple Lawn Ballroom.  Making a meal choice will likely be difficult, with numerous choices available at their Carving Station, Entrée Station, Seafood Station, Breakfast Station and a Dessert Station.  They even have a Children's Station complete with chicken tenders, mac and cheese and a taco bar for those finicky eaters at your table.  Adults are $65, children ages 6-12 are $32.50, children 2-5 are $16.25 and children under 2 are free with a paying adult.   Make sure you take a stroll through the resort to see the Easter Bunny who will be available to guests beginning at 10:00 a.m.  The Grand Geneva's Annual Easter Egg Hunt is at 1:00 p.m. at the outdoor golf pavilion and is open to guests and all members of the community ages 5-12.  Egg hunt will take place rain or shine.  For brunch reservations, call (262) 248-8811.
Lake Lawn Resort in Delavan will be serving a delicious Brunch in their Frontier Restaurant from 9:30 a.m. to 3:00 p.m.  The buffet will include Chef carved Steamship Round of Roast Beef and Maple Glazed Pit Ham, their famous chilled seafood display, salads, chef-prepared custom country omelets, malted Belgian waffles, pastries and much more.  Adults are $44.95, children 4-12 are $16.95 and children under 3 are free.  There will be an Easter Egg Hunt at 9:00 a.m. in the inner courtyard for resort and brunch guests. Reservations are required, so please call the Frontier Restaurant at (262) 725-9155.
Brunch is being served at the Geneva Ridge from 9:00 a.m. to 2:00 p.m.  Their buffet menu will include Carved Beef, Roasted Leg of Lamb, BBQ Chicken, Shrimp Cocktail, Made to Order Omelets, Scrambled Eggs, Bacon, Sausage, Hash Crown Casserole, Biscuits & Gravy, BBQ Chicken, Mac 'n Cheese, Glazed Carrots, Mixed Greens, Dinner rolls, Fresh Fruit and Assorted Desserts.  Adults are $34.95, children ages 5 to 10 are $16.95 and children under 4 are free. Reservations can be made at (262) 249-3832.
The Big Foot Inn in Walworth will be serving up an all-you-can-eat buffet from 9:00 a.m. to 3:00 p.m. featuring Omelets, Eggs Benedict, Waffles, French Toast, Fried Potatoes, bacon, Sausage, Chef Carved Virginia Ham and Tender Sirloin, Baked Salmon, BBQ Ribs, Roast Turkey, assorted Casseroles and Pasta dishes and much more.  Brunch diners can enjoy unlimited complimentary champagne, orange and tomato juice, coffee and tea.  Adults are $23.95 and children under 10 are $12.95.  The Big Foot Inn will also be serving a special Easter dinner menu after 3:00 p.m.
Regardless of where you choose to dine, the food looks great and the options are endless!